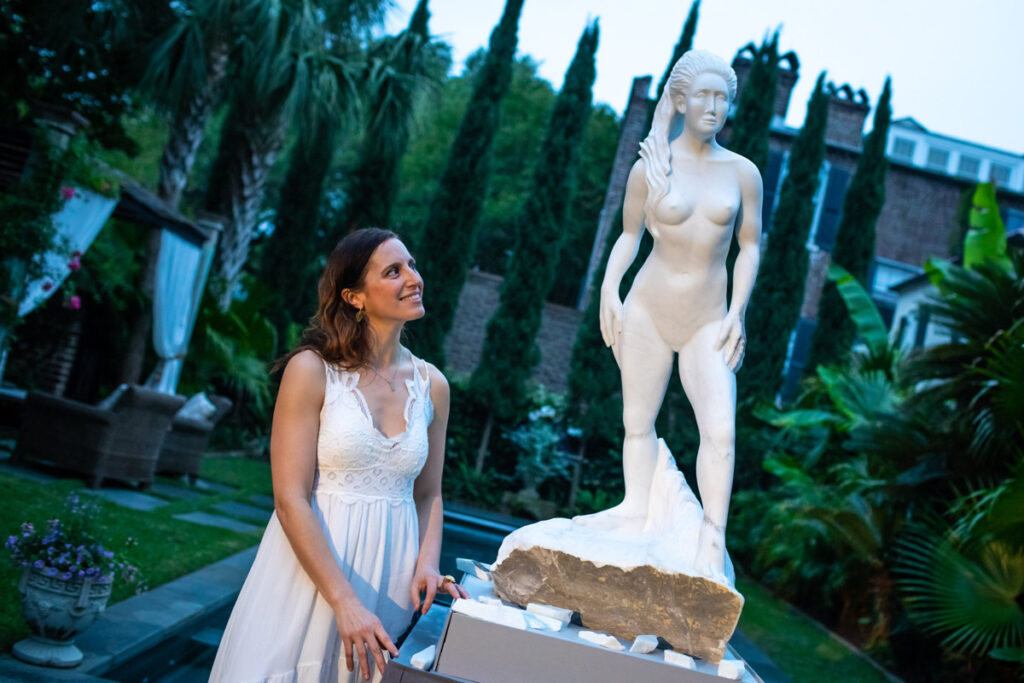 For over 20 years, I have had this dream – to create a female figure, a Modern Athena, at the scale of Michelangelo's David. It seemed impossible, but in 2014, a friend from Georgia made me a unique offer. As part of an exchange for web services, he would pay me with a thousand pounds of Italian marble and alabaster. I accepted. I bought a set of steel chisels that were gathering dust in an art store, watched some instructional YouTube videos, and went to work teaching myself how to carve. When you've thought about something as long as I have, and you finally sit down to do it, it just flows out. In 2016, I spent a month in the city of Artists, the town of Pietrasanta, Italy, where Michelangelo himself once worked. There, I purchased proper carbide chisels, diamond rasps, and over 4,000 lbs of statuario marble – and had everything shipped back to Chicago.
The Modern Athena sculpture is to be seen as a symbol of female strength, beauty and wisdom – a modern woman. In the age of the "#MeToo" movement, female identity and power have emerged as fronts for social change. This large scale sculpture embraces our changing social dynamics in the hopes that the turmoil of change will eventually beget mutual prosperity.
A seventeen foot tall nude female in single block of marble is difficult to create; the expense, time and technical expertise means its a challenge. It is my greatest artistic challenge and I have trained myself for it. I have had to kick down doors mentally and physically and have refused to accept prior limitations like lack of training and strength. The impact of a woman carving such a large sculpture of a female warrior is meant to be inspirational. The Modern Athena sculpture is about not accepting prior limitations, not just for myself, but for everyone.
I consider my vision for this project – to create a female figure at the scale of Michelangelo's David, to be the pinnacle of my artistic achievement. I envisioned it 20 years ago and it seemed impossible. However, now it's started. I have monthly videos that go into more detail on the process of carving the Modern Athena. Watch Below 🙂
There are two phases to the Modern Athena project. Phase I is the completion of a 4 foot scale version in Statuario marble. To that end, I have already acquired a 2 ton block of Statuario marble via a successful kickstarter campaign and a trip to Italy in 2016. "Finding Athena" was a successful indiegogo campaign that just wrapped in time for Christmas 2019. The fundraiser covered the costs of a month-long residency in Athens, Greece in January 2020. I took with me the small scale model that had been cast into fiberglass of the Modern Athena Sculpture and spent the month working closely with art historian and curator Elizabeth Plessa on my project. We had scheduled studio visits, gallery openings, and museum shows. I also researched the costs of working with Greek marble instead of Italian marble and other logistical issues.
After Phase I is completed, Phase II requires the purchase of a 17 foot block of Statuario marble from Carrara, carving over a 3 year period, exhibitions, additional tools, assistants and studio rentals in Italy and America and the development of a full length documentary film to increase awareness of this important art form. LIFTED, the short documentary film below is a glimpse into my trip to Italy in 2016 and its magnificent marble quarries.
My fundraising goal is $400,000. Your tax-deductible contribution will help me obtain the marble, execute the carving over a 3 year period, exhibit it, and develop a documentary film to increase awareness of this important art form. To date, I am the proud recipient of 2021 grants from the Cliff Dwellers Arts Foundation $2,000 and the Illinois Arts Council Agency $3,225, support from the Chomicz Family Foundation and the Dante Alighieri Society of Charleston in addition to over $20,000 in private donations towards the Modern Athena sculpture.
Let's Make Art History Happen Donate Now

Modern Athena Monument is a fiscally sponsored project of Fractured Atlas, a 501(c)(3) charity. Contributions are tax-deductible to the extent permitted by law. Learn More about your Modern Athena Monument Donation
This program is partially supported by grants from the following:
Cliff Dwellers Arts Foundation
Illinois Arts Council Agency
Watch the sculpture documentary film LIFTED on my work in Pietrasanta and Carrara Italy by Motion Filmworks