Let's Make Herstory Happen – Support Modern Athena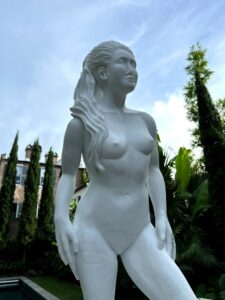 To honor and celebrate women in art and the world at large, I am fundraising to carve a sculpture that captures the strength, wisdom, and beauty of the female figure at the same scale of Michelangelo's David – Modern Athena
In 2022, I finished carving a 2,000 lb block into a 48 inch version of the Modern Athena and exhibited it for the Dante Alighieri Society in Charleston. I am a proud recipient of 2021 grants from the Cliff Dwellers Arts Foundation $2,000 and the Illinois Arts Council Agency $3,225, support from the Chomicz Family Foundation and the Dante Alighieri Society of Charleston in addition to over $20,000 in private donations. Watch the short documentaries "Lifted" by Motion Filmworks and "Herstory" to learn about the beginnings of Modern Athena. In 2023, I published a book Hammer & Stone that uses original photography and poetry to demonstrate techniques for carving marble by hand that is beautifully illustrated with photos of marble quarries in Italy, my wing sculptures and the chiseling of the small scale Modern Athena. It's available as a Trendsetter Perk with a $45 donation.
My fundraising goal is $400,000 Your tax-deductible contribution will help me obtain the marble for the 17 foot version, execute the carving over a 2/3 year period, afford exhibitions, and develop a documentary film to increase awareness of this important art form. Donate Now

Perks
Monthly and One-Time Donations are available
Modern Athena Monument is a fiscally sponsored project of Fractured Atlas, a 501(c)(3) charity. Contributions made payable to Fractured Atlas for the purposes of Modern Athena Monument are tax-deductible to the extent permitted by law. If you receive a reward in exchange for your donation, the fair market value of that reward will reduce the tax-deductible portion of your donation. The value of the reward you receive will be included in your donation receipt.
This program is partially supported by grants from the Cliff Dwellers Arts Foundation and the Illinois Arts Council Agency. Additional support has been provided by the Dante Alighieri Society of Charleston and the Chomicz Family Foundation.